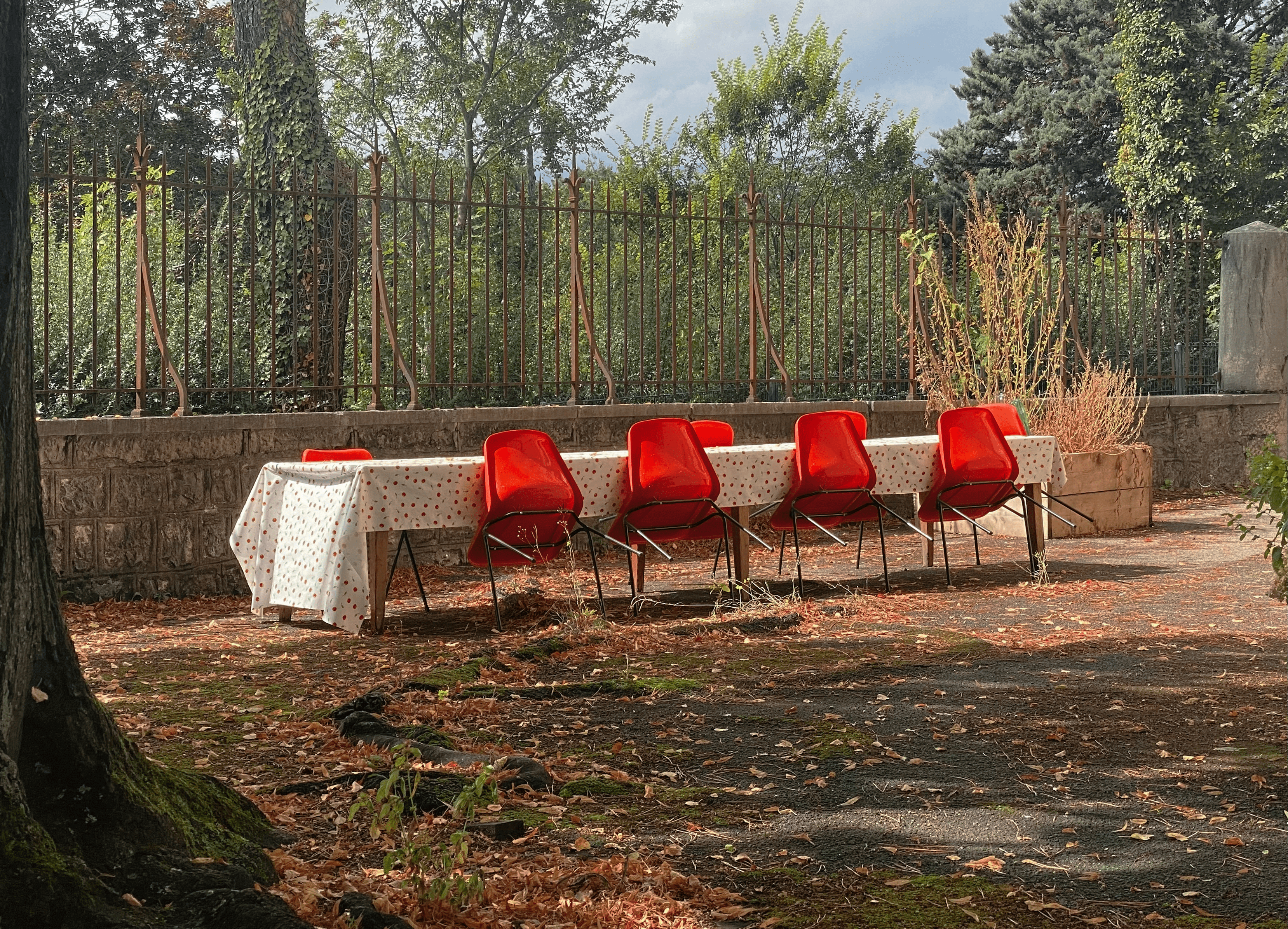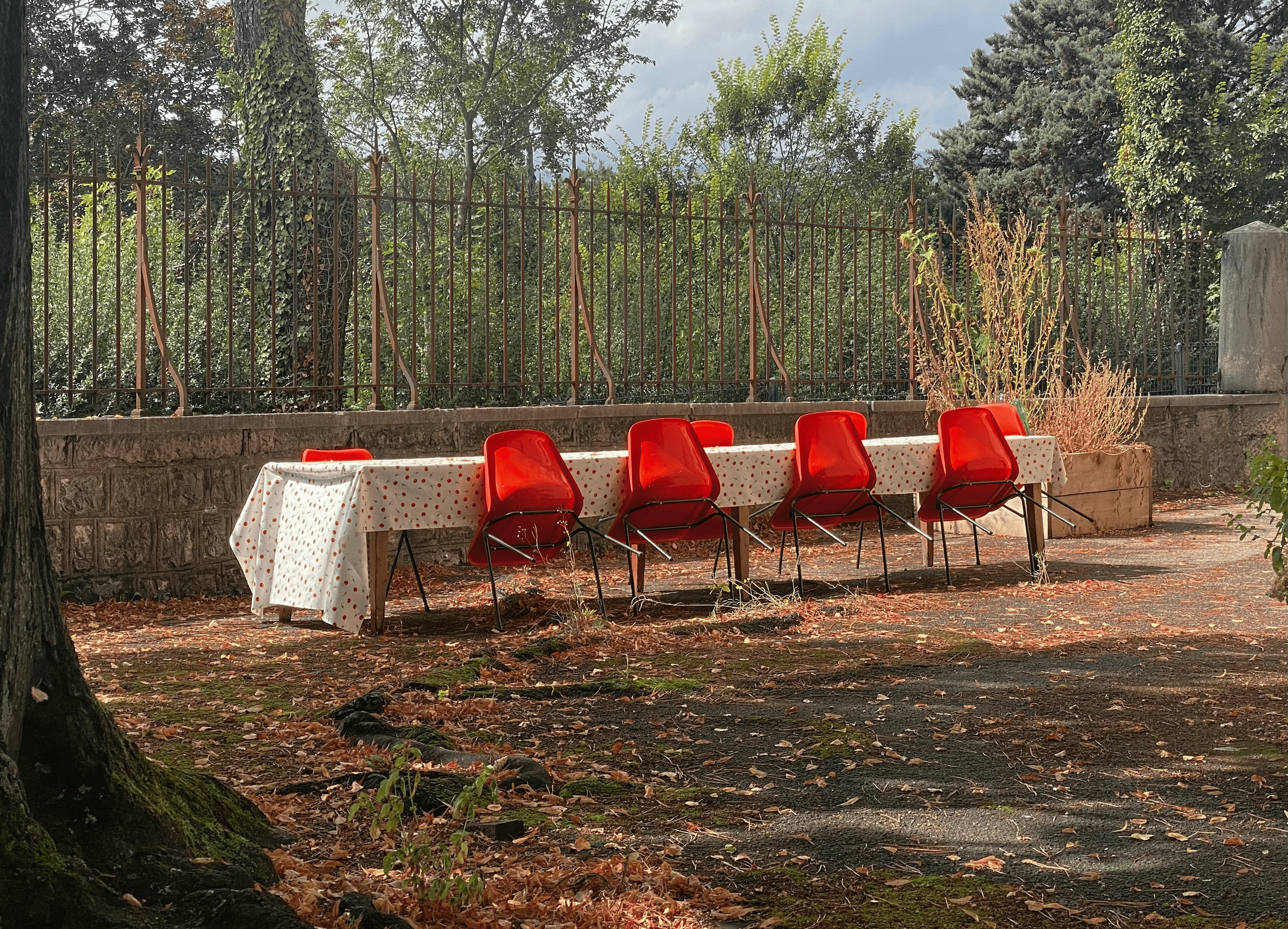 © Nadjim Bigou-Fathi, Sans titre, 2021
Courtesy of the artist
Frsh (recherche d'un objet dans une poche)
Residency: nadjim bigou-fathi & soto labor
12 Sept. 2022 — 1 Apr. 2023
This residency is supported by the Seine-Saint-Denis Department.
In the onomatopoeia dictionary, frsh is the sound made by an object that is being looked for in a pocket. "Frsh (recherche d'un objet dans une poche)" is also the title of a project by nadjim bigou-fathi & soto labor, begun in 2021 at La Criée centre d'art contemporain in Rennes and shown at Bétonsalon – Center for Art & Research in Paris. Drawing on dance and poetry, among other things, through performance nadjim bigou-fathi & soto labor question authoritative narratives and the legitimisation of speech. Do words lose their meaning if you sing a text rather than read it? How does the dining table allow for the exploration of thinking on relationships of domination in the implementation of discourses? Through their visual and performative research, the duo proposes reshuffling the cards of the occupation of space and the power relations that govern our social conventions.
Over the course of their seven-month residency at La Galerie, centre d'art contemporain de Noisy-le-Sec, they developed a project with the art centre's audiences and the inhabitants of Noisy-le-Sec through meetings and participative workshops.
Desserte club at Micro-Folie Noisy-le-Sec
Cooking workshops with the participants of the cultural/language workshops at the Entraide à Tous Petits et Grands association in Noisy-le-Sec. The group exchange recipes, expertise and stories around dishes they cook. Questions of transmission and translation are explored depending on the participants' native language and at the end of each session the meals are shared.
Ciné-club at the Cinéma le Trianon
A program of film screenings followed by discussion and writing sessions with a year eleven visual arts class from Lycée Olympe de Gouges in Noisy-le-Sec. Beginning from the works presented, the participants collectively build tools to critique and analyse video images. For the first session, nadjim bigou-fathi & soto labor selected an extract from Pier Paolo Pasolini's Uccellacci e Uccellini [The Hawks and the Sparrows].
The research resulting from the various discussions and the stories collected will constitute a sound, textual and visual archive. The conversations and productions created (texts, drawings, photos, recipes) will form the content of a published object, but also the material for the script of a performance that will be presented to the public at the end of the residency.
The residency
Each year, La Galerie, centre d'art contemporain de Noisy-le-Sec welcomes an artist-in-residence for a period of six to seven months, with the support of the Département de la Seine-Saint-Denis. The art centre provides the artist with artistic, logistical and financial support. The artworks produced during the residency take the art centre's extended region into consideration.