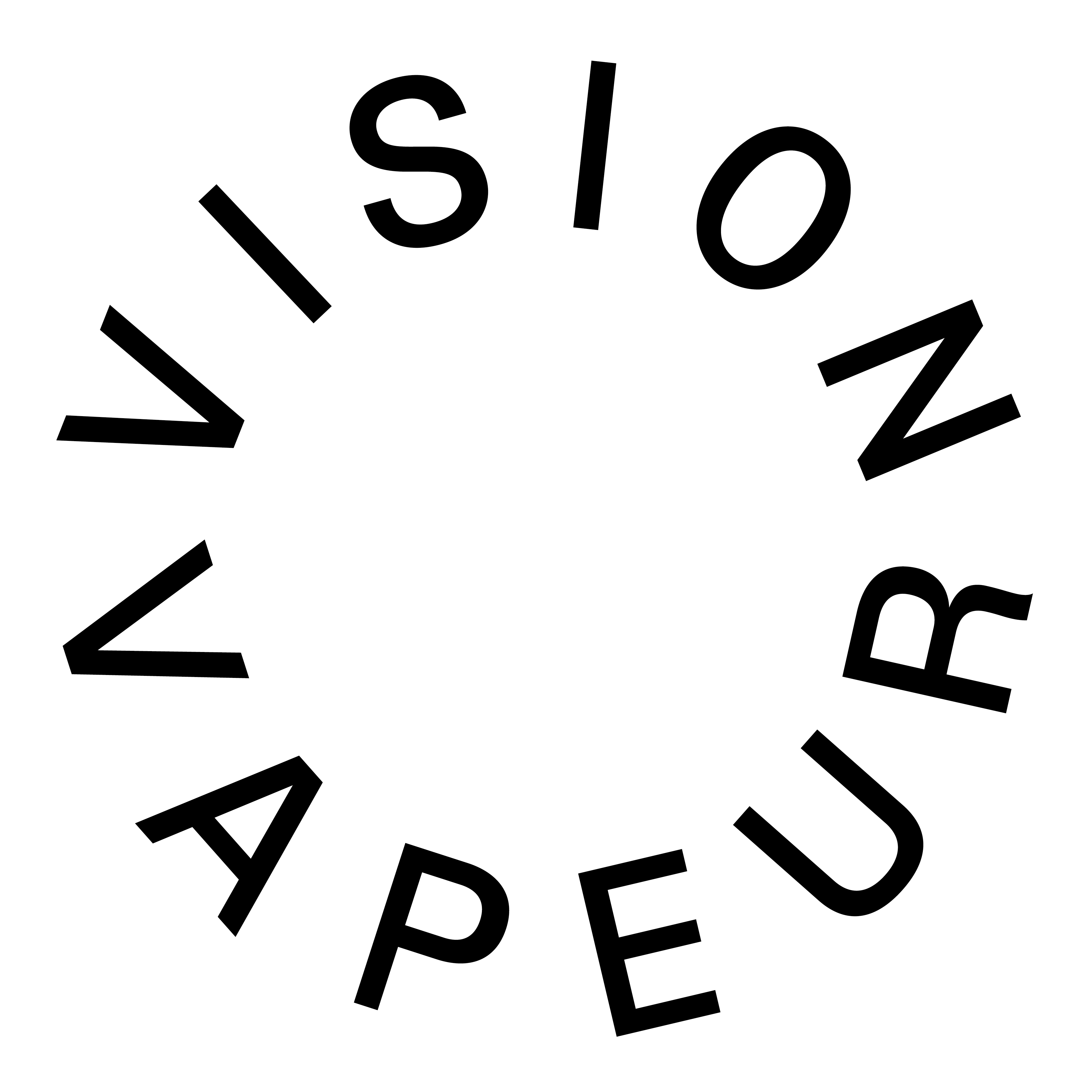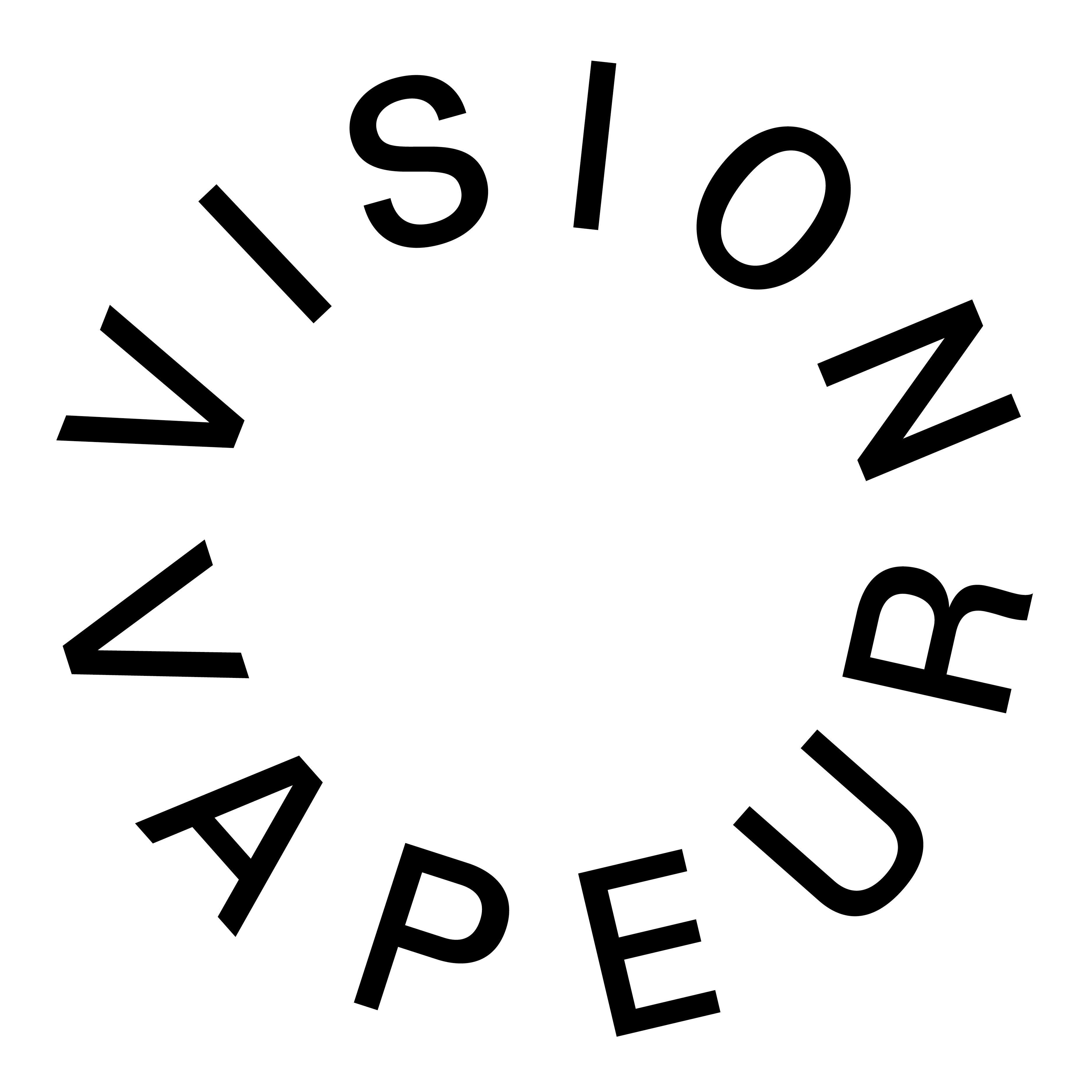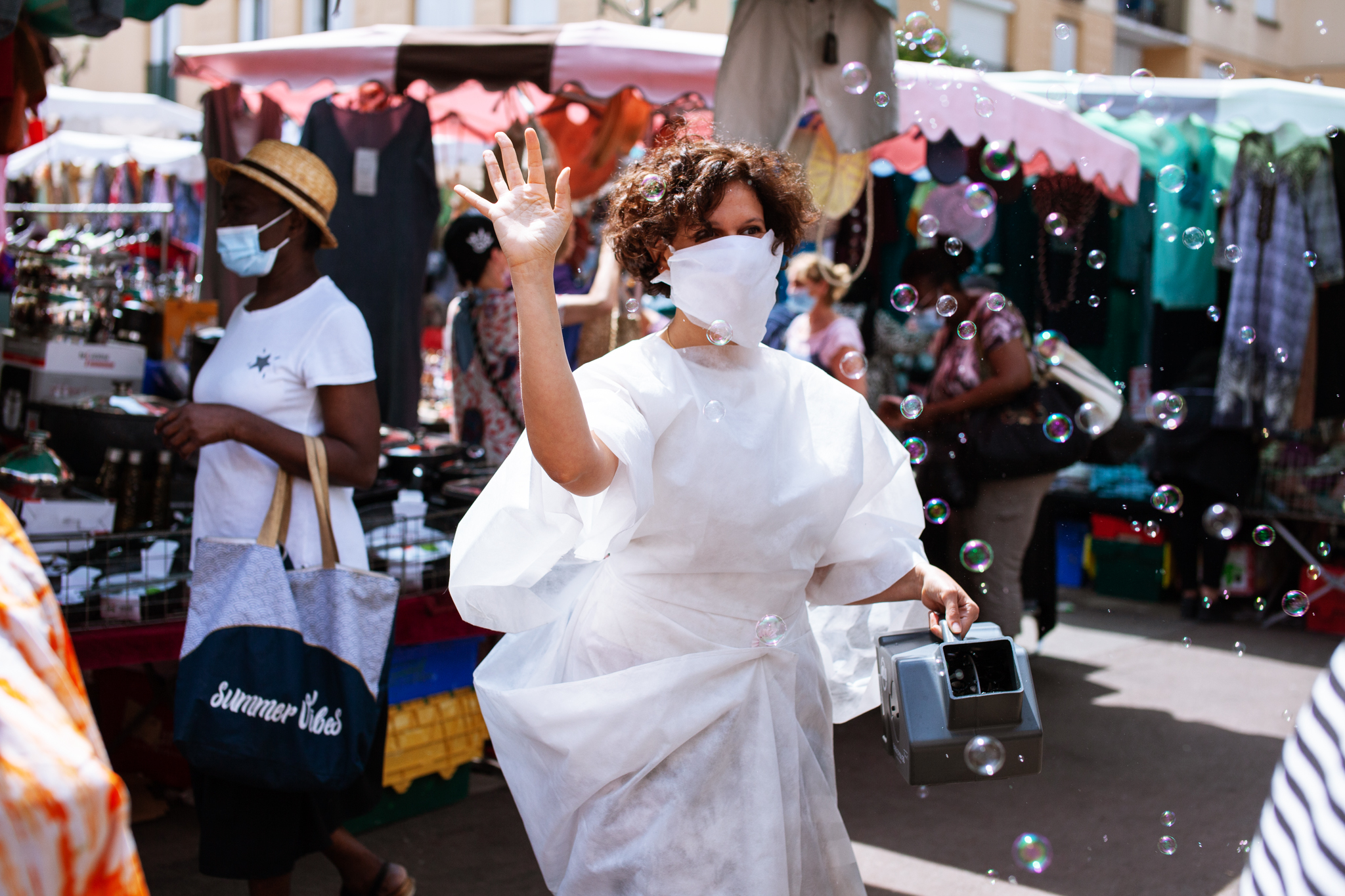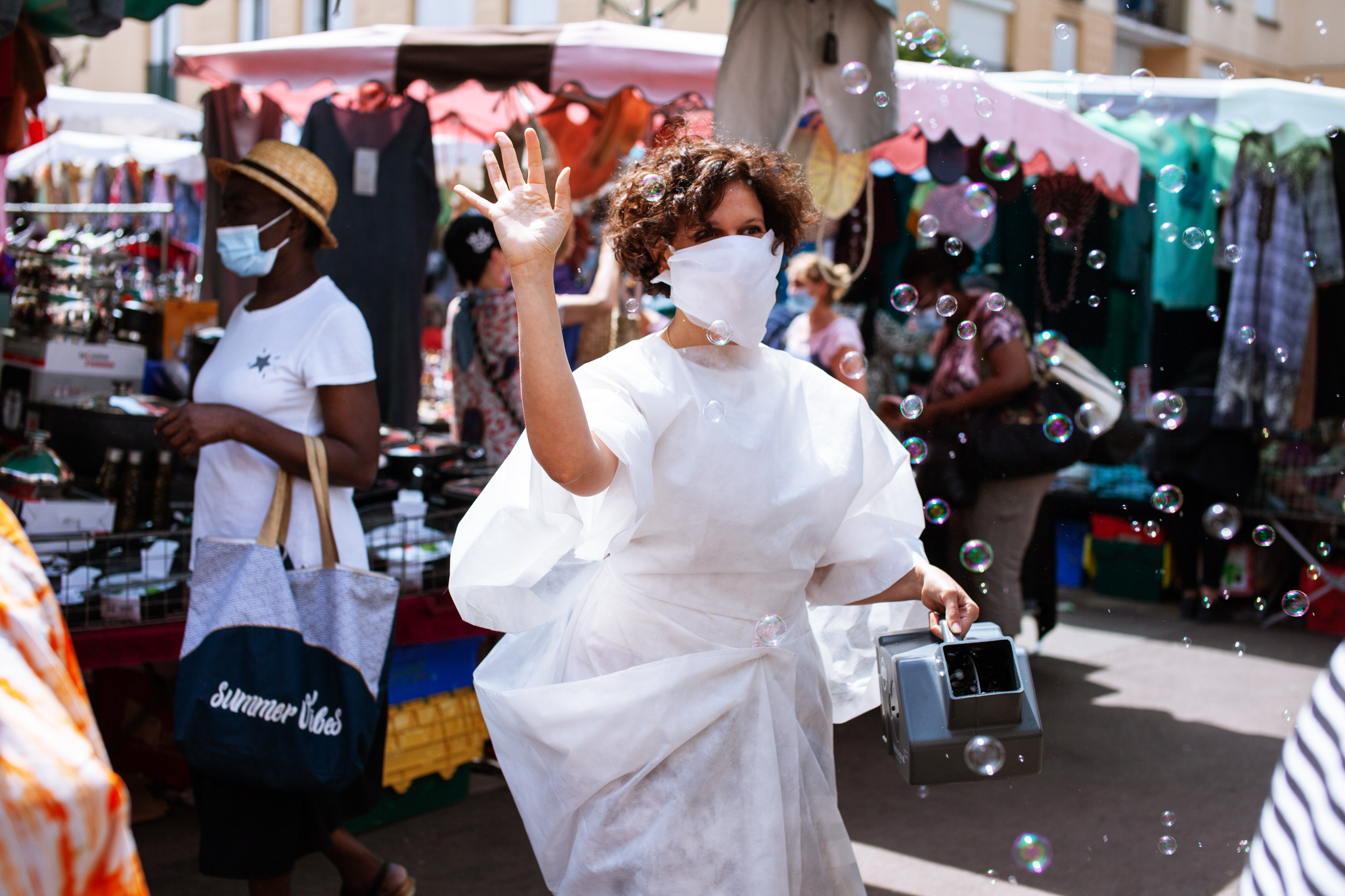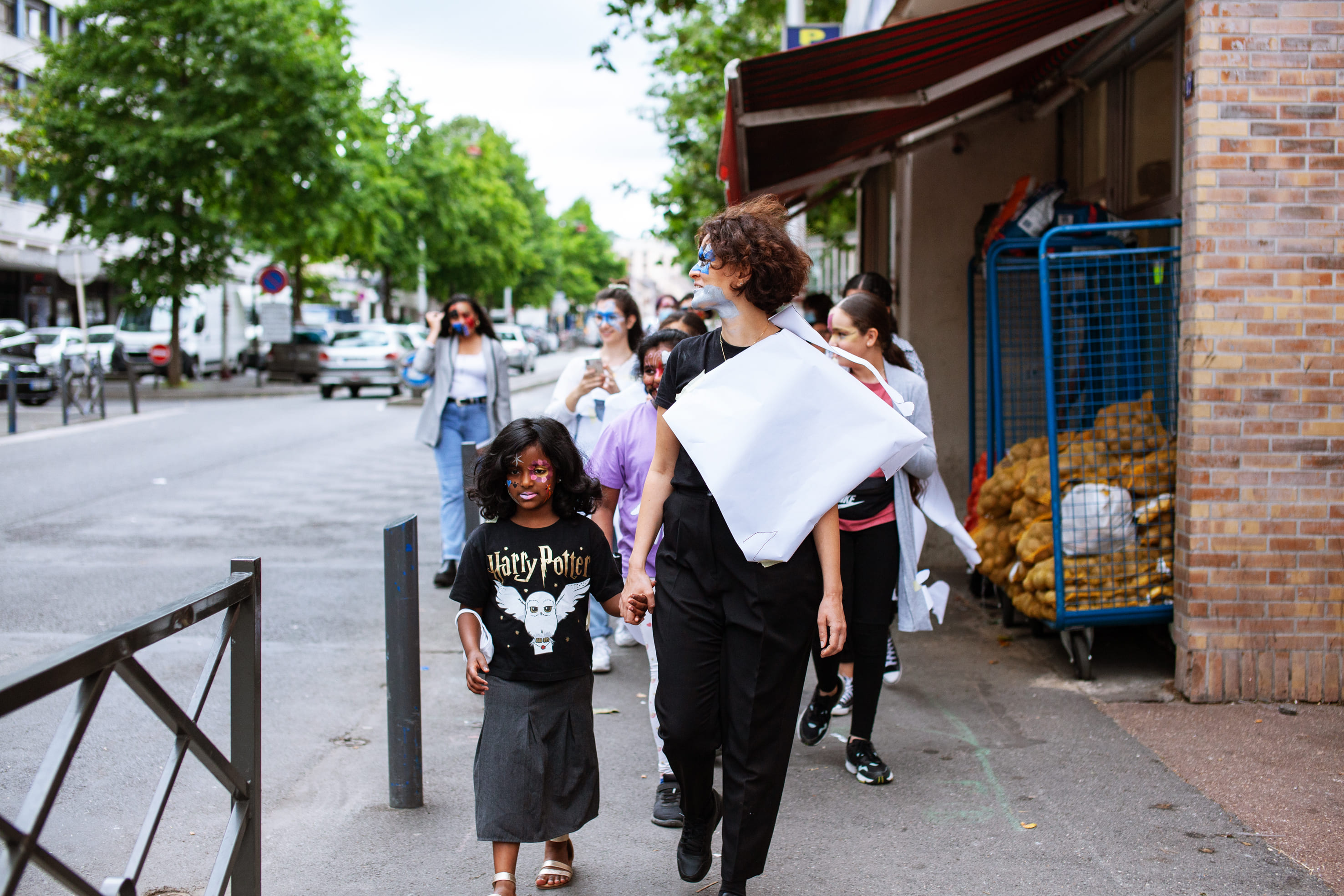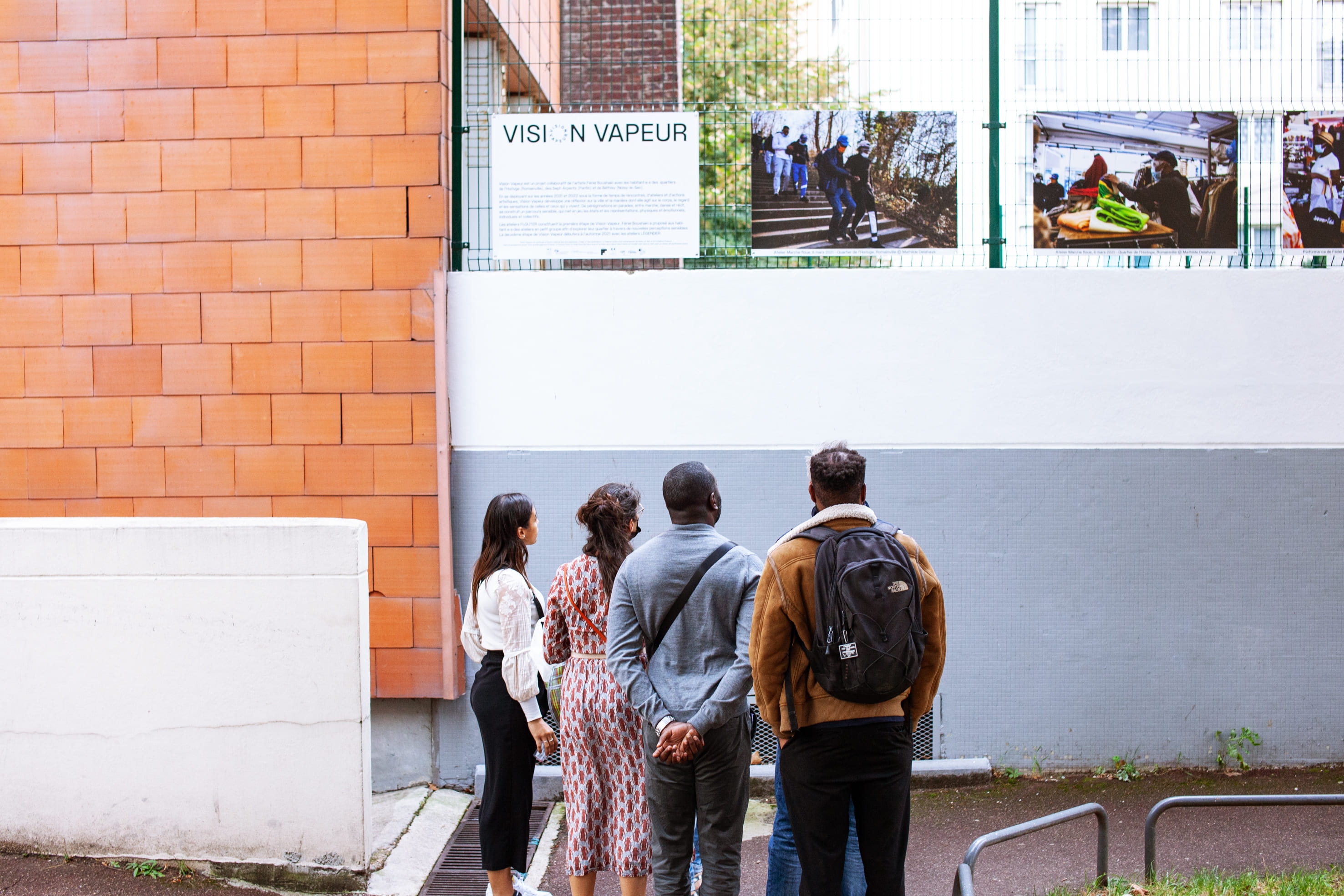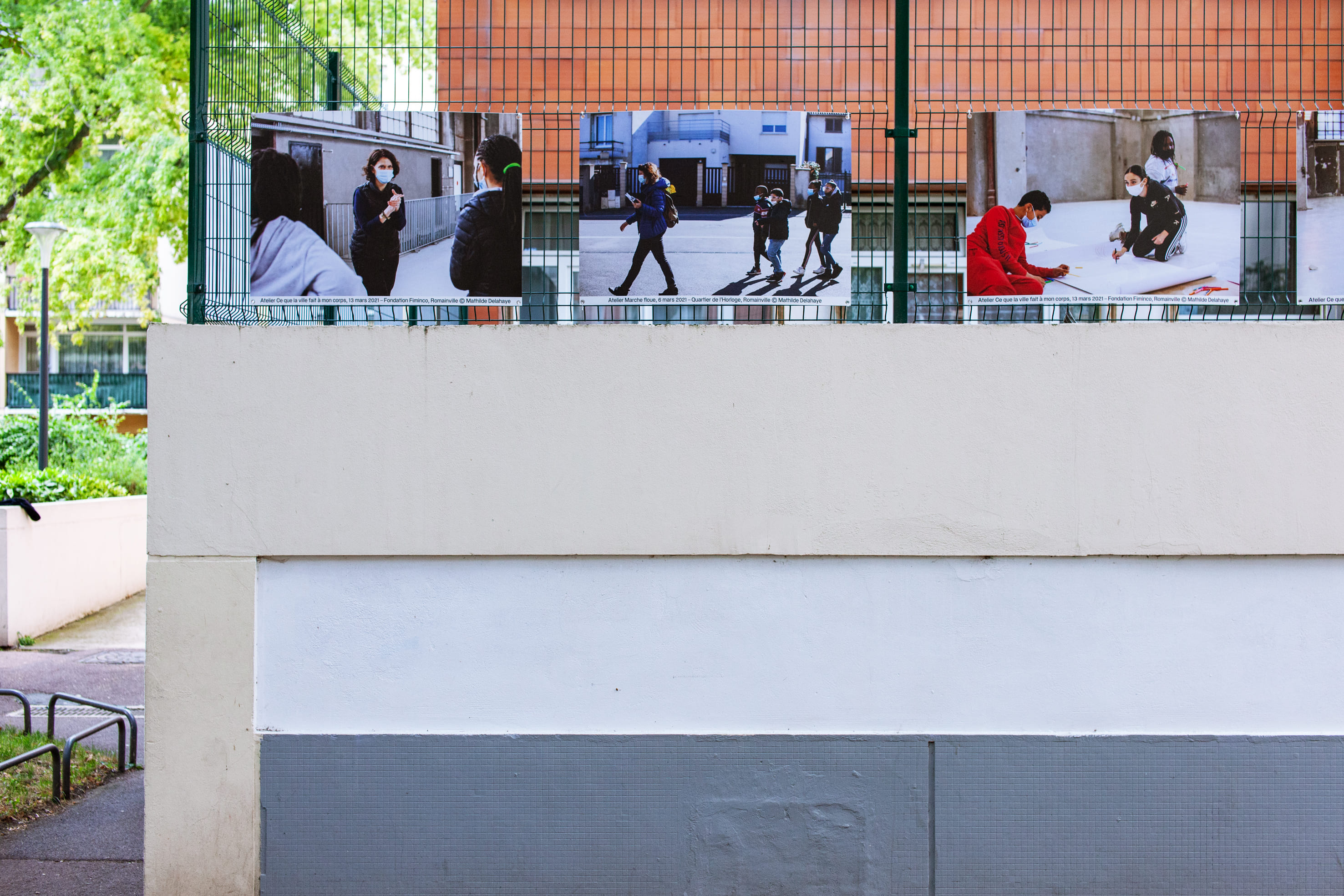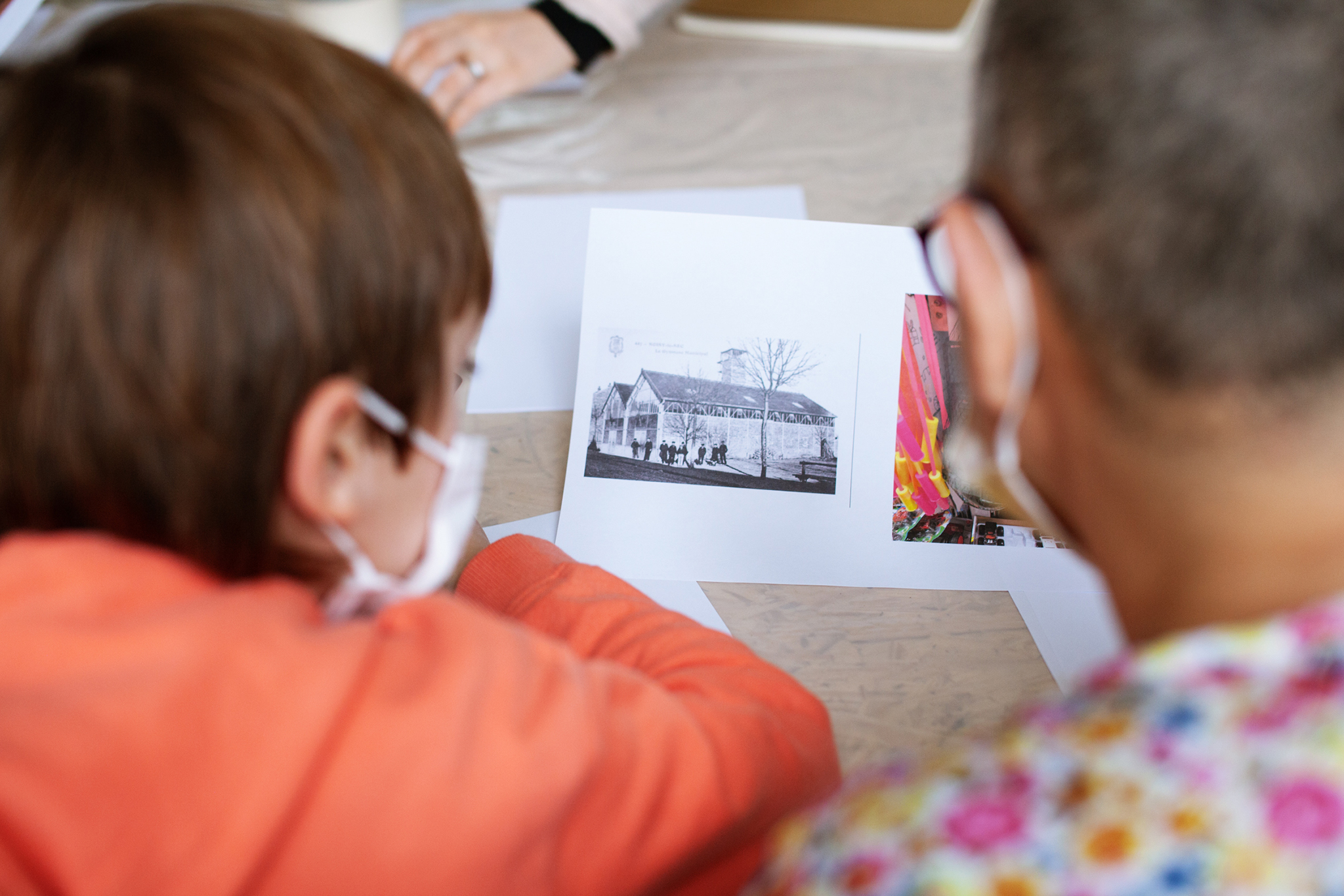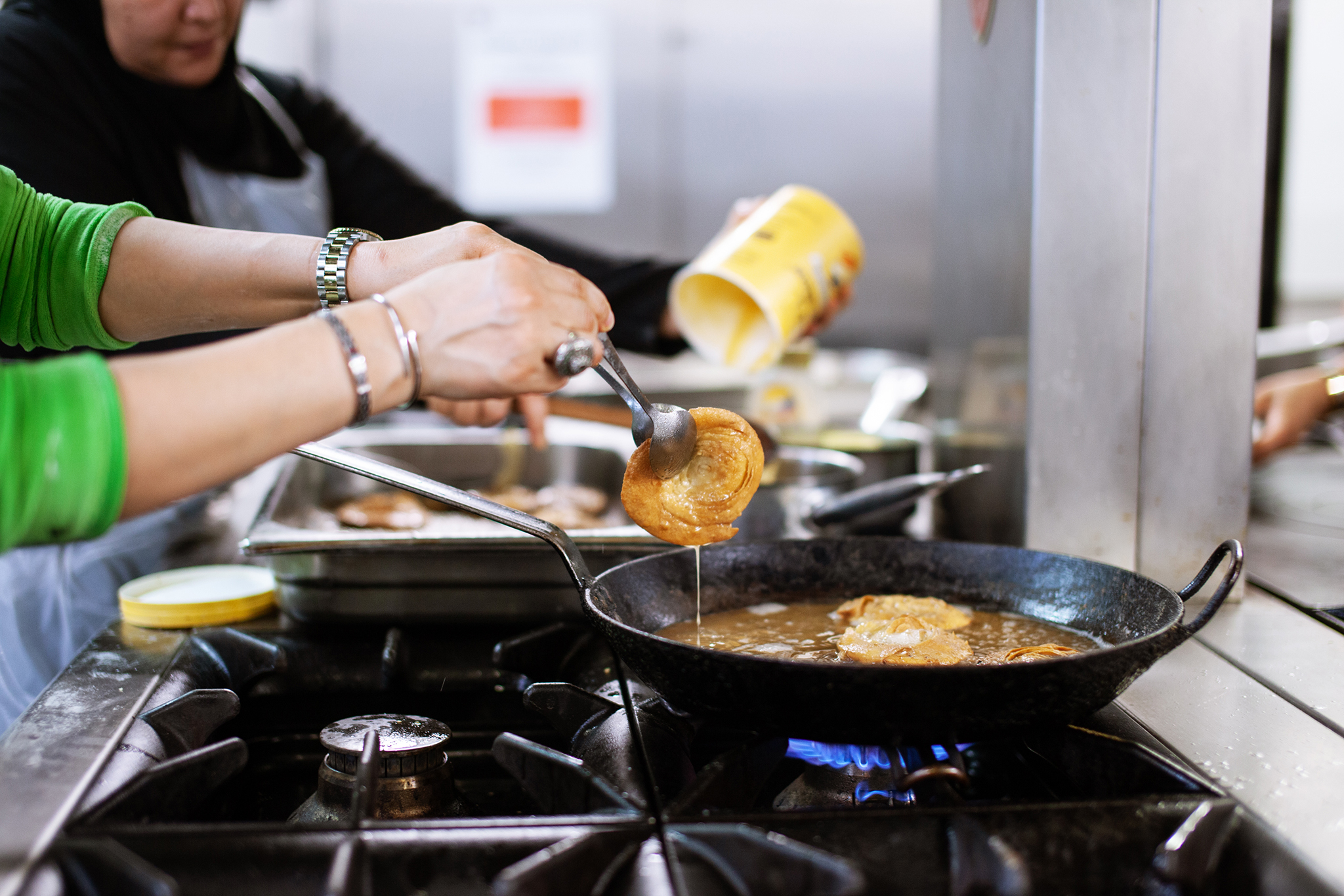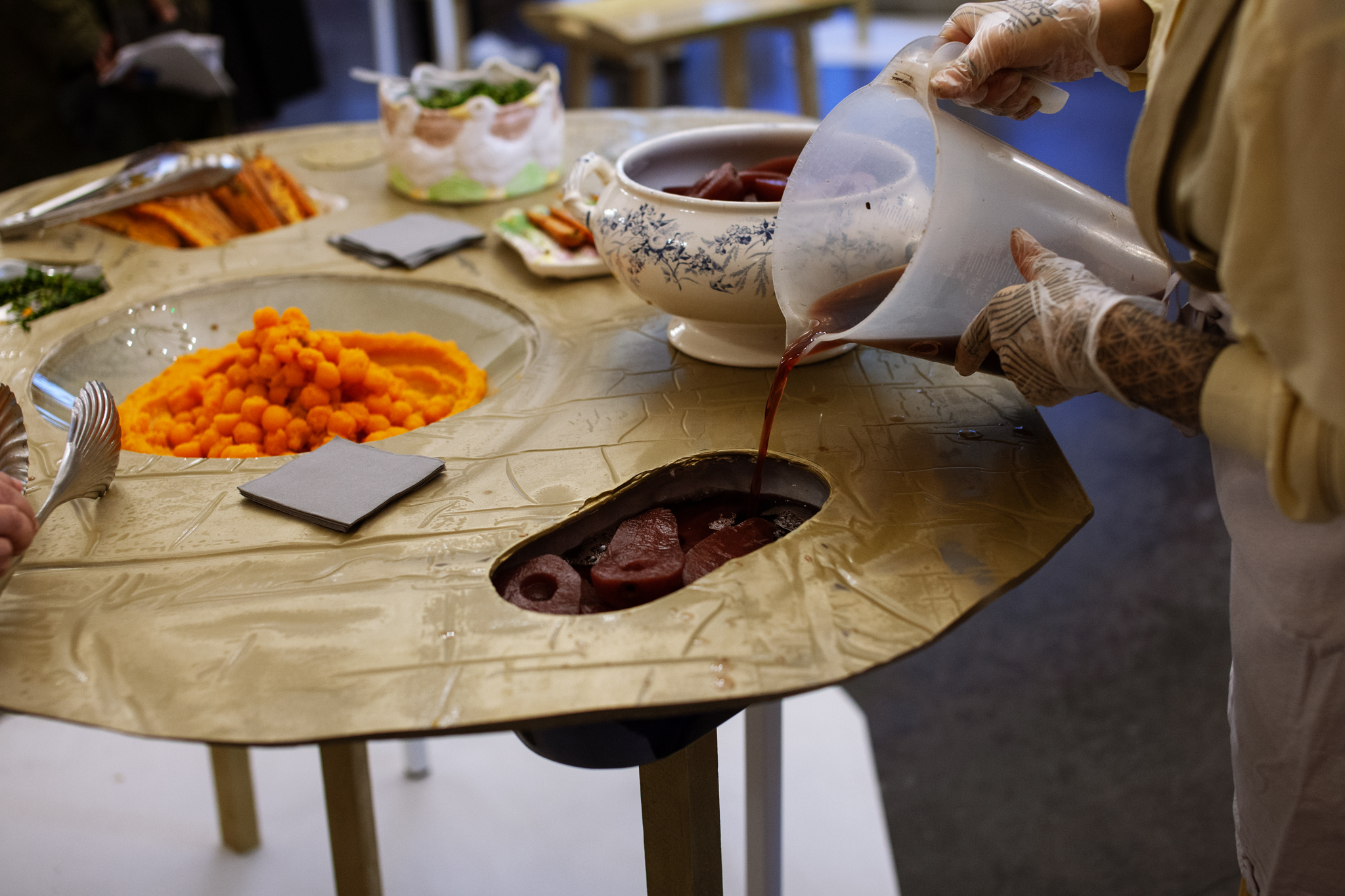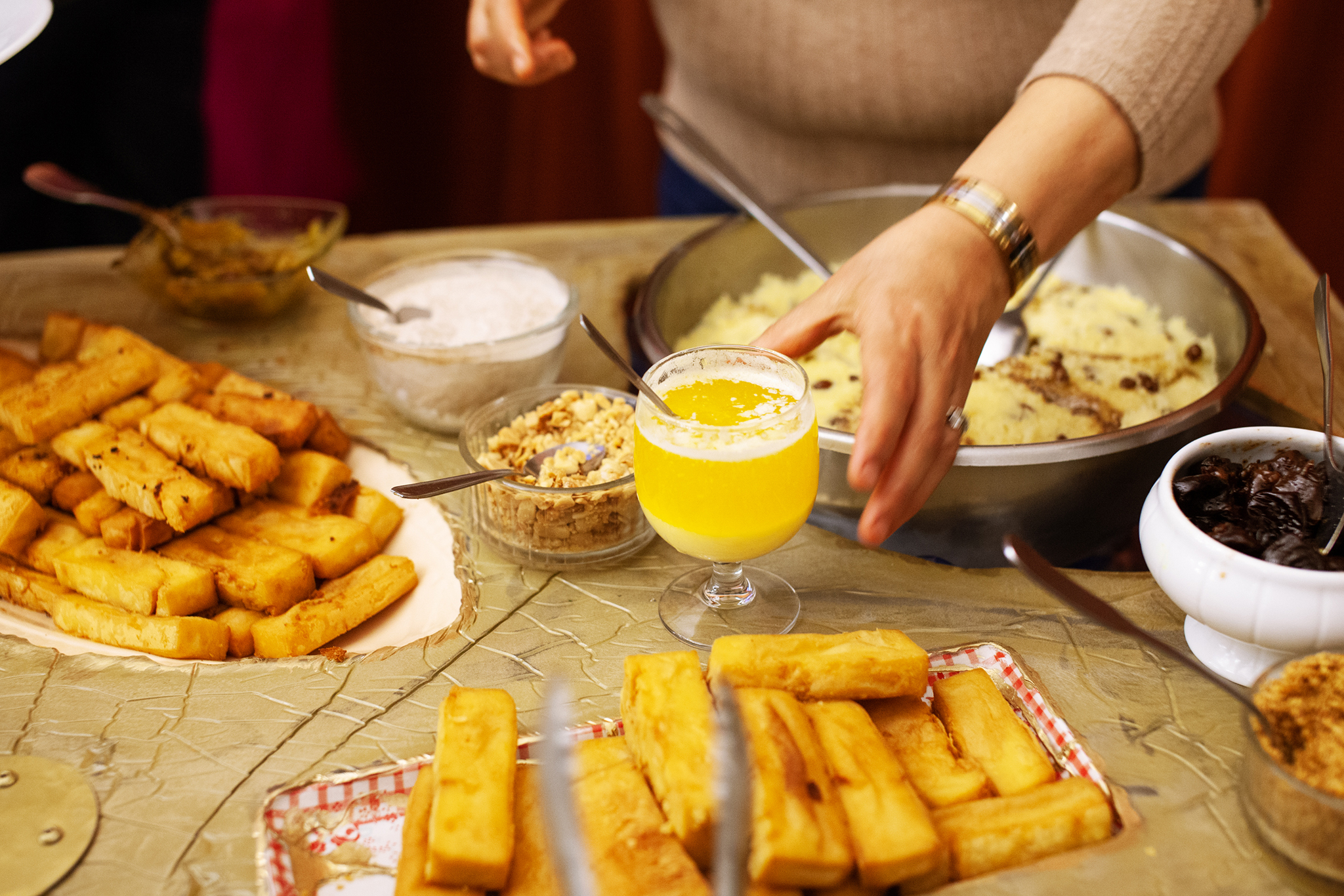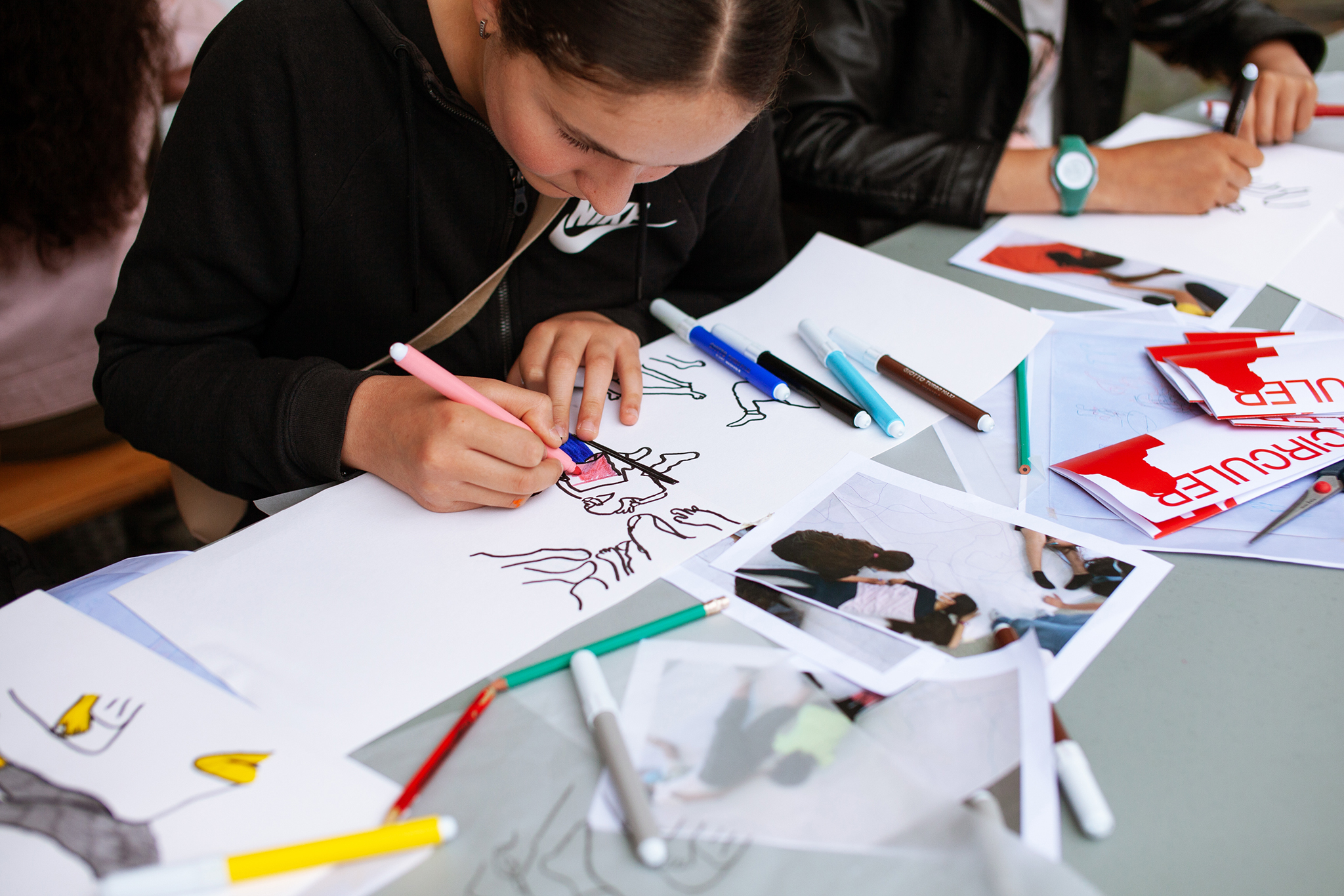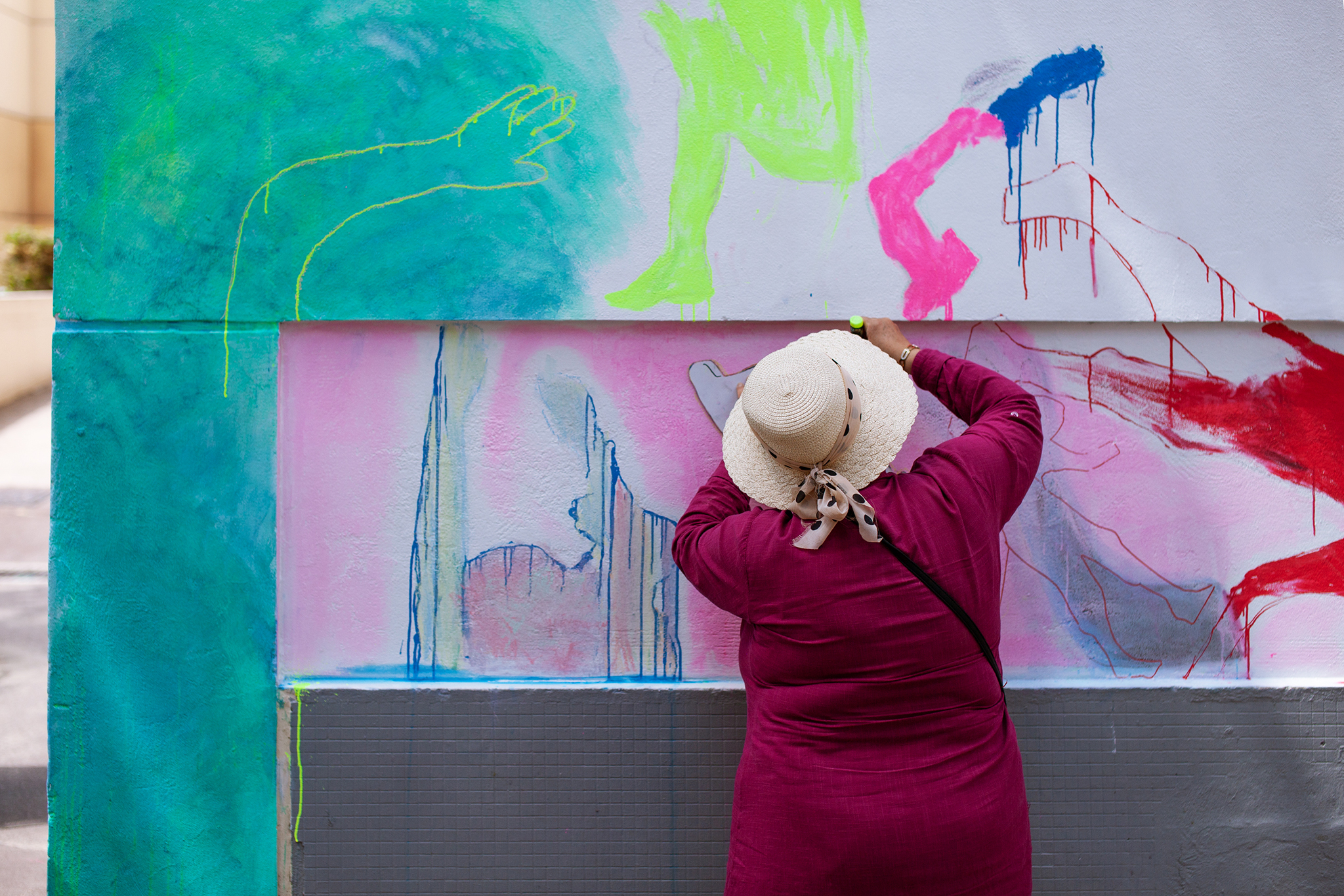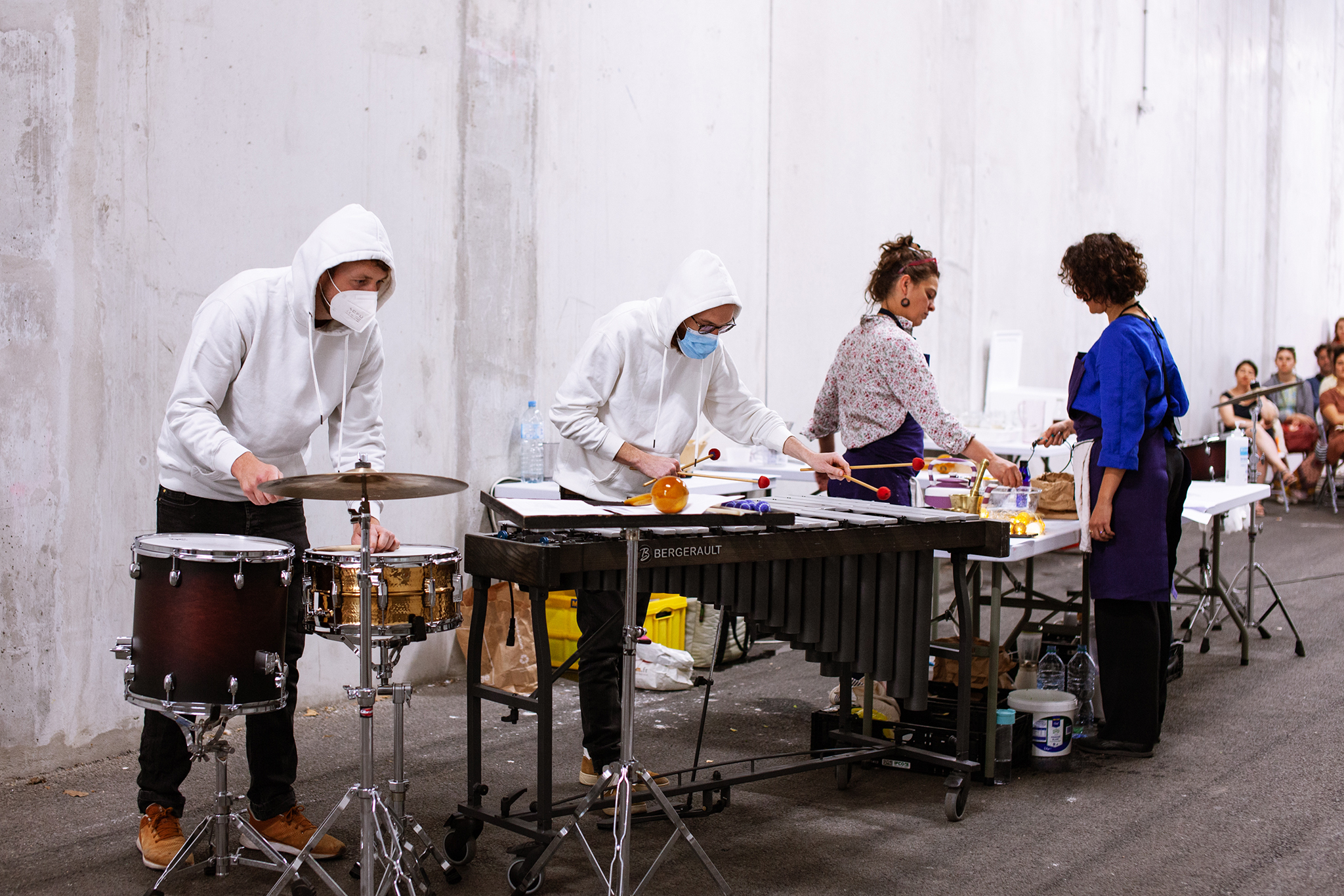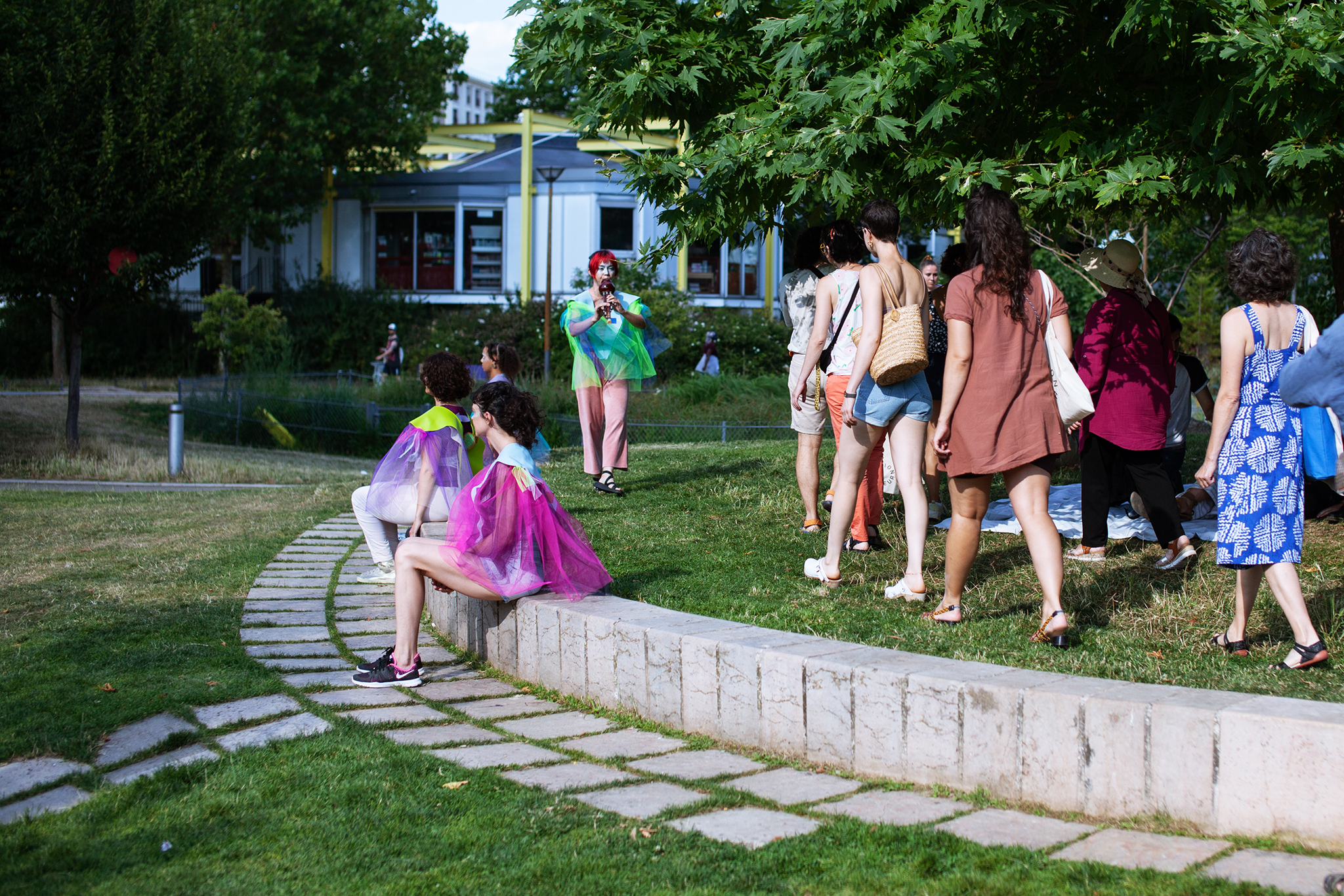 Photos © Mathilde Delahaye
Vision vapeur
Fériel Boushaki's outdoor project
1 Jan. 2021 — 9 Jul. 2022
A cultural action project initiated by the Centre national des arts plastiques (Cnap), the Fondation Fiminco and La Galerie, centre d'art contemporain de Noisy-Le-Sec
"Vision vapeur" is a collaborative project by artist Fériel Boushaki with the people who live in and frequent the Horloge (Romainville), Sept-Arpents (Pantin) and Béthisy (Noisy-le-Sec) districts. Unfolding over 2021 and 2022 with meetings, workshops and artistic actions, "Vision vapeur" develops a reflection on the city and the way in which it acts on the body, the gaze and the sensations of those who live in and pass through it. From peregrinations to parades, with walking, dancing and storytelling, it constructs a sensitive journey, bringing into play physical and emotional, individual and collective, states and representations.   
Spring, summer 2021: "Flouter"
For the first stage of "Vision vapeur", Fériel Boushaki proposes sensory walks for small groups.
Horloge (Romainville): Saturdays 6 and 13 March, Wednesday 23 June 2021
Béthisy (Noisy-le-Sec): Saturdays 3 and 10 July, Wednesday 14 July 2021
Sept-Arpents (Pantin): Saturdays 24, 31 July and 7 August 2021
From 1st to 23 September 2021, an exhibition of photographs taken during "Flouter" is presented in the three neighbourhoods:   
1st to 8 September 2021: on the Friche Gyntiana gates in the Sept-Arpents disctrict in Pantin (outdoors)
9 to 16 September 2021: Béthisy district in Noisy-le-Sec (outdoors)
17 to 23 September 2021: Fondation Fiminco in Romainville (Monday to Friday, 2pm 

–

6pm)
Autumn 2021, Winter 2022: "Légender"
The "Légender" workshops constitute the second stage of "Vision vapeur". Fériel Boushaki invites us to interweave the small and big stories of Romainville, Pantin and Noisy-le-Sec. Participants are invited to describe where they live, their own stories and memories.
Noisy-le-Sec (La Galerie, centre d'art contemporain): Saturdays 2, 23 October 2021 and 8 January 2022
Pantin (Ehpad Les Jardins de Pantin and recreation centre Les Gavroches): Wednesdays 13 October, 24 November 2021, 26 January and 16 February 2022
Romainville (Fondation Fiminco and association La Main dans la Main): Saturdays 16 October, 6 and 27 November 2021, Wednesday 19 January 2022
From 1st to 4 March 2022, Fériel Boushaki proposes to prepare a culinary map of the three districts, in collaboration with women chefs Brigitte and Héloïse (Relais Solidaires), Marla Minkiewicz and Alicja Jurasinska (Soma Kitchen), and Nadia Najeh El Idrissi (president of the association La Main dans la Main).


Cooking workshops from 1st au 4 March 2022
Tasting opened to everybody on 5 March 2022, 5:30pm
At Relais Solidaires: 61 rue Victor Hugo, 93500 Pantin
Spring 2022: "Archiver/activer"
The third and penultimate stage of "Vision vapeur" is title "Archiver/activer". Fériel Boushaki invites inhabitants to activate and archive the collected, used and produced documents in the three districts since the beginning of the project.
Fondation Fiminco (Romainville): Wednesday 4, Friday 6, Saturday 7 May 2022
Spring, summer 2022: "Circuler"
Following the project's three stages, the participants are invited to join Fériel Boushaki in writing and making an artistic trail between the three districts on Saturday 9 July, 2022.
Preparatory workshops: 
Fondation Fiminco (Romainville): serigraphy workshop, creation of tote-bags on Wednesdays 1st and 15 June 2022
Esplanade Simone-Veil (Noisy-le-Sec): workshop to create stencils for a fresco on Saturday 25 June, 2022, as part of Escales culturelles de Noisy-le-Sec
Parc Stalingrad (Pantin): repetition to create a collective performance on Saturday 2, Sunday 3 and Wednesday 6 July, 2022 (from the age of 10 years)
A territorial project by the Cnap
With its planned move to the city of Pantin in 2024, the Centre national des arts plastiques (Cnap) wanted to engage with its future home, Seine-Saint-Denis, through an initiative with Fondation Fiminco in Romainville and La Galerie, centre d'art contemporain de Noisy-le-Sec. With this project, initiated and cofounded by the Prefecture of Île-de-France Region and the Commissariat Général à l'Égalité des Territoires in consultation with the Prefecture of Seine Saint-Denis Department, the Cnap is already involved in the department.  
Alongside these two stakeholders in the diffusion of contemporary creation established in the area, in July 2020 Cnap launched a call for applications for artists and artist collectives to carry out a cultural action projection for sixteen months. The project was to involve the inhabitants of Noisy-le-Sec, Pantin and Romainville, drawing on the expertise of local partners, in a collaborative dynamic: neighbourhood professionals, activity leaders, educators, mediators, social workers, cultural professionals, youth work professionals, teachers and so on.
Call for participation
Fériel Boushaki is looking for participants of all ages who live or frequent the Horloge (Romainville), Béthisy (Noisy-le-Sec) and Sept-Arpents (Pantin) districts. Would you like to take part in co-creating a work in your neighbourhood? No experience is necessary, just your curiosity and motivation is enough.
Information and booking by email: mediation@cnap.fr
By phone: 06 27 73 40 68 / 06 73 18 86 74