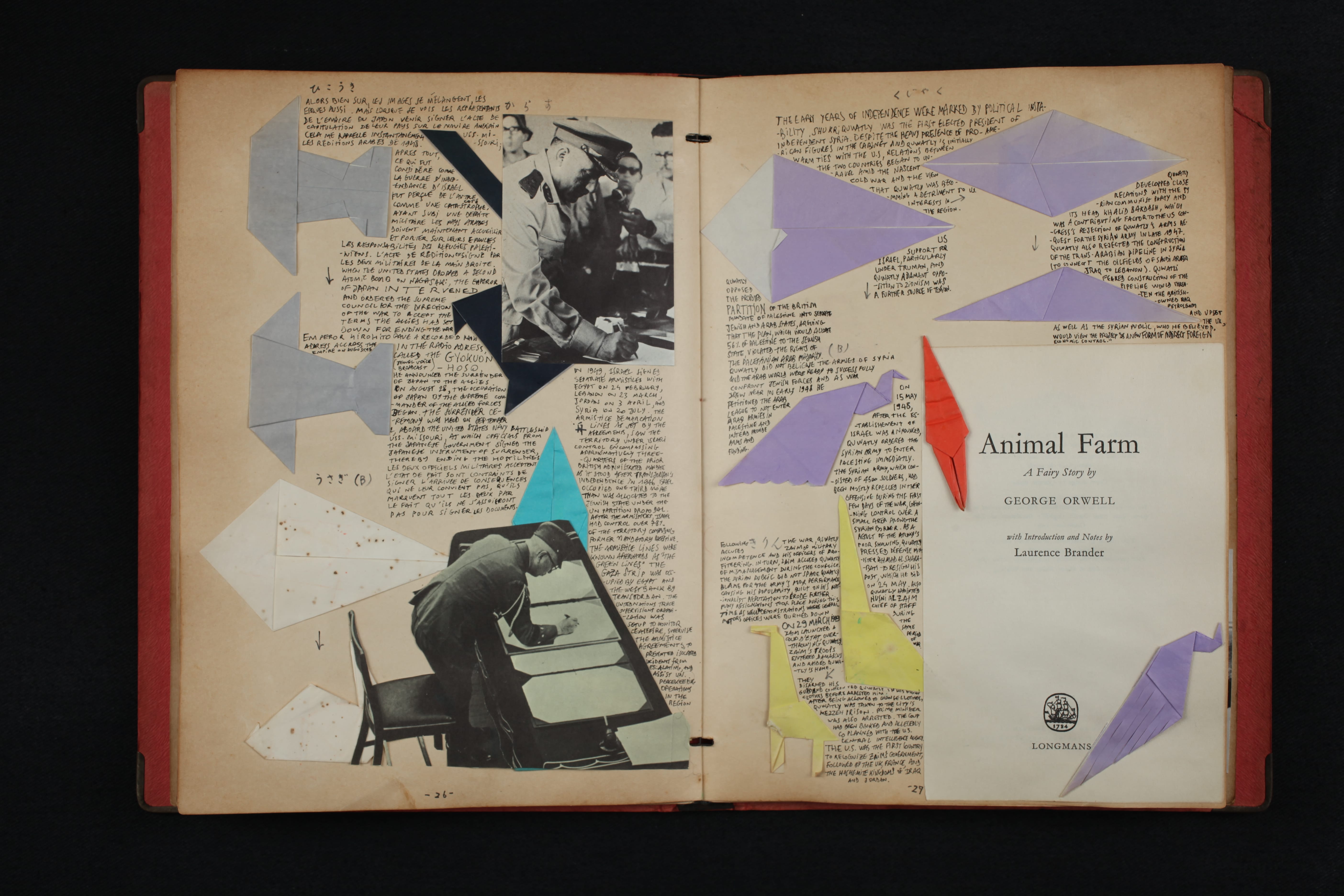 Bady Dalloul
Scrapbook, 2015
Found notebook, collages, artist's drawings and writing
Festival du film franco-arabe de Noisy-le-Sec
Projection of a Bady Dalloul's film
15 Nov. 2019, 7:30pm
Scrapbook, 2015
Duration: 48 min
Projection followed by a discussion with the artist 
As part of Festival du film franco-arabe de Noisy-le-Sec
Programme on fffa.noisylesec.fr
The video Scrapbook presents the images of a book accompanied by a voice-over in different languages. It tells the story of Sadako, a young Japanese girl, born in 1943 in Hiroshima, who, after being irradiated by the atomic bomb, decides to make one thousand origamis to recover her health. She dies before her story is finished.
Bady Dalloul discovered it much later, while visiting a museum in Japan. Moved by the girl's story, and drawing parallels with his own, the artist decided to take up the challenge of continuing Sadako's work.
Scrapbook is the result of the interlacing of his story with that of Sadako, integrating collective history (the occupation and colonisation of Palestine, the bombings of Hiroshima and Nagasaki, the Syrian diaspora). With the multiplicity of languages used in the piece, as well as the various narrative layers, the story seems manifold. 
Bady Dalloul
Bady Dalloul (born in 1986), lives and works in Paris.
Bady Dalloul is a French-Syrian artist who graduated with honours from the École Nationale Supérieure des Beaux-Arts de Paris in 2015. His work, infused with political, sociological and historical dimensions, confronts the imaginary and the real, forcing them into dialogue, questioning the logic of writing history. The creation of fictional lands, the artist's obsession since he was a teenager, is at the heart of his current work.