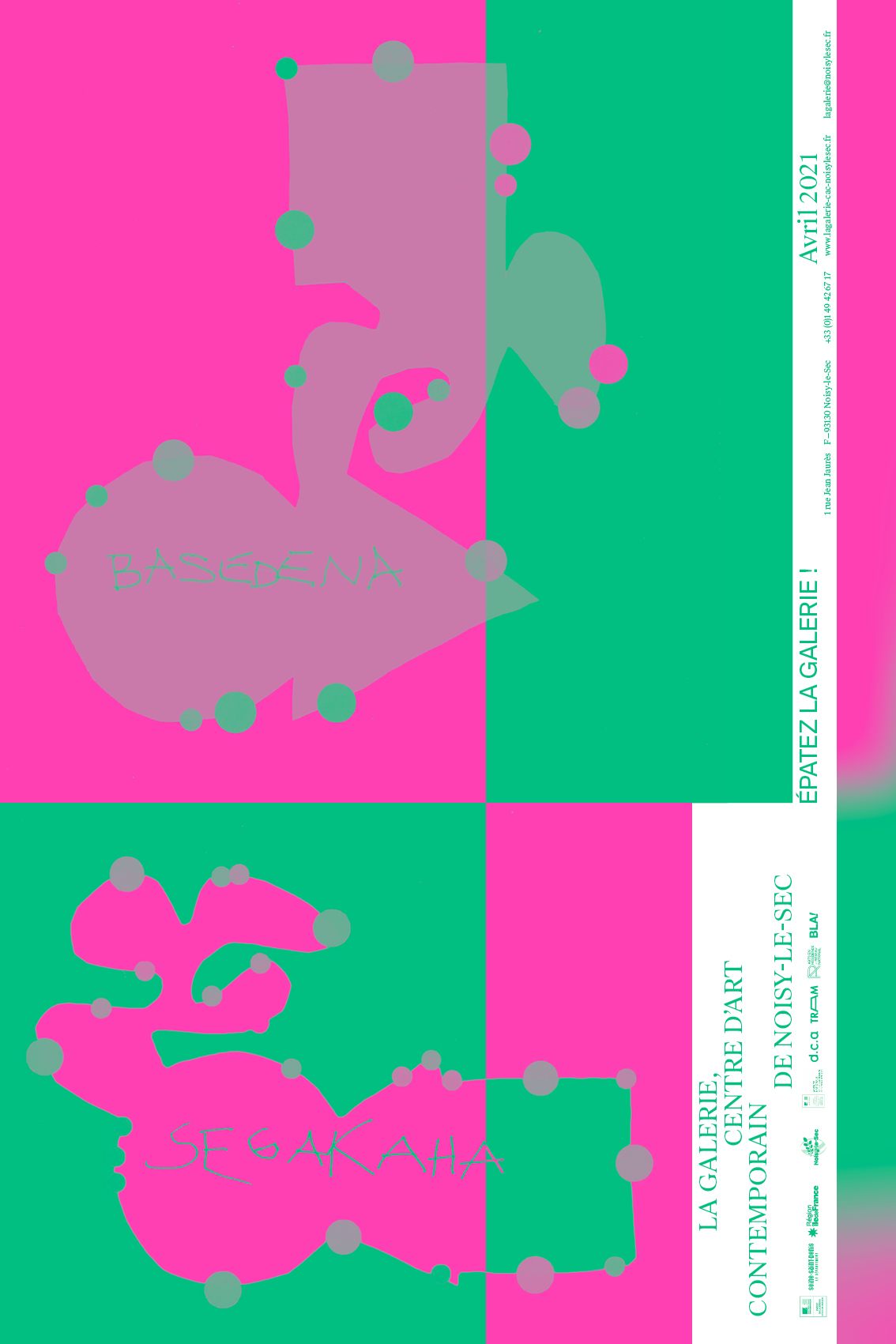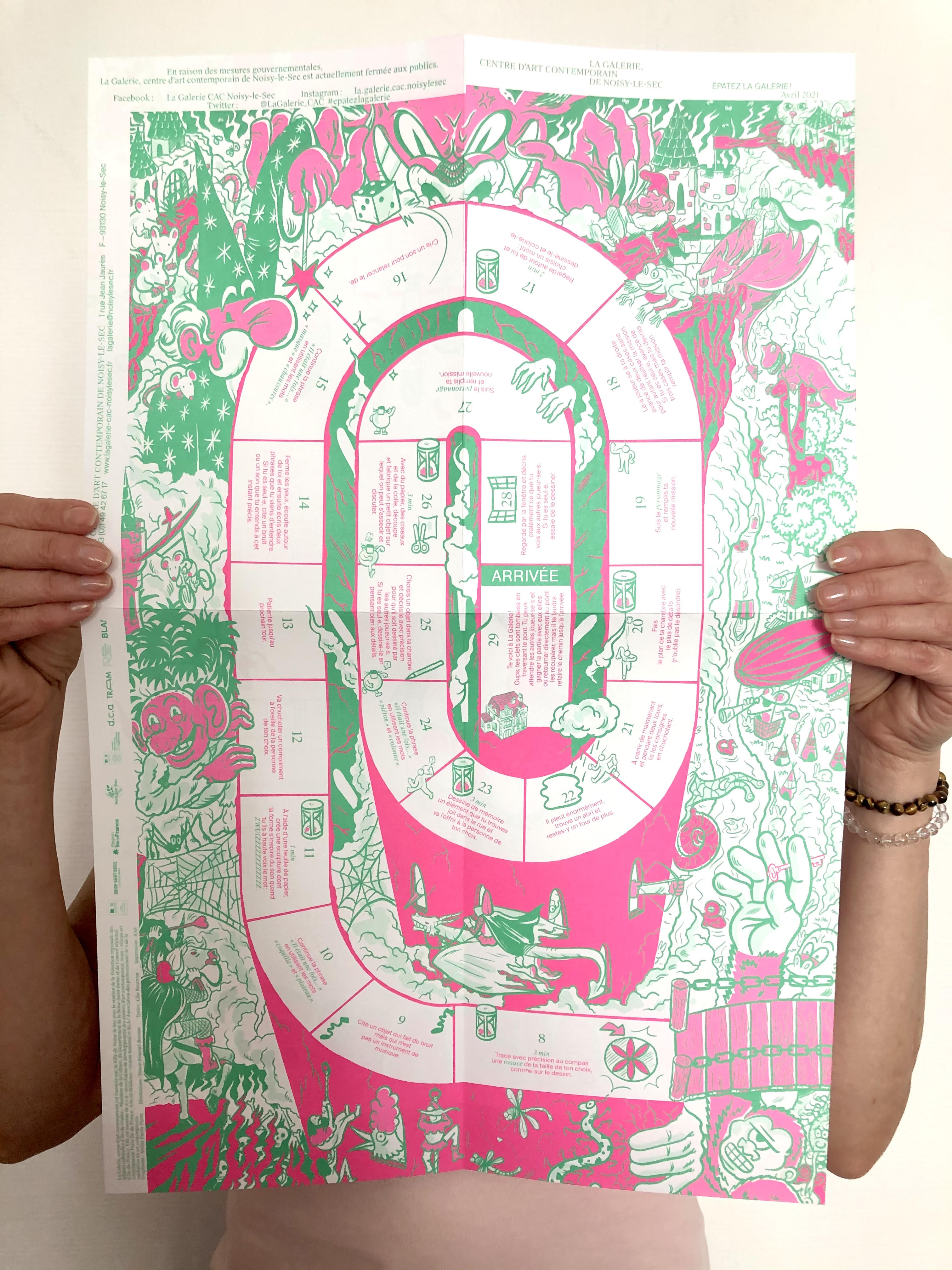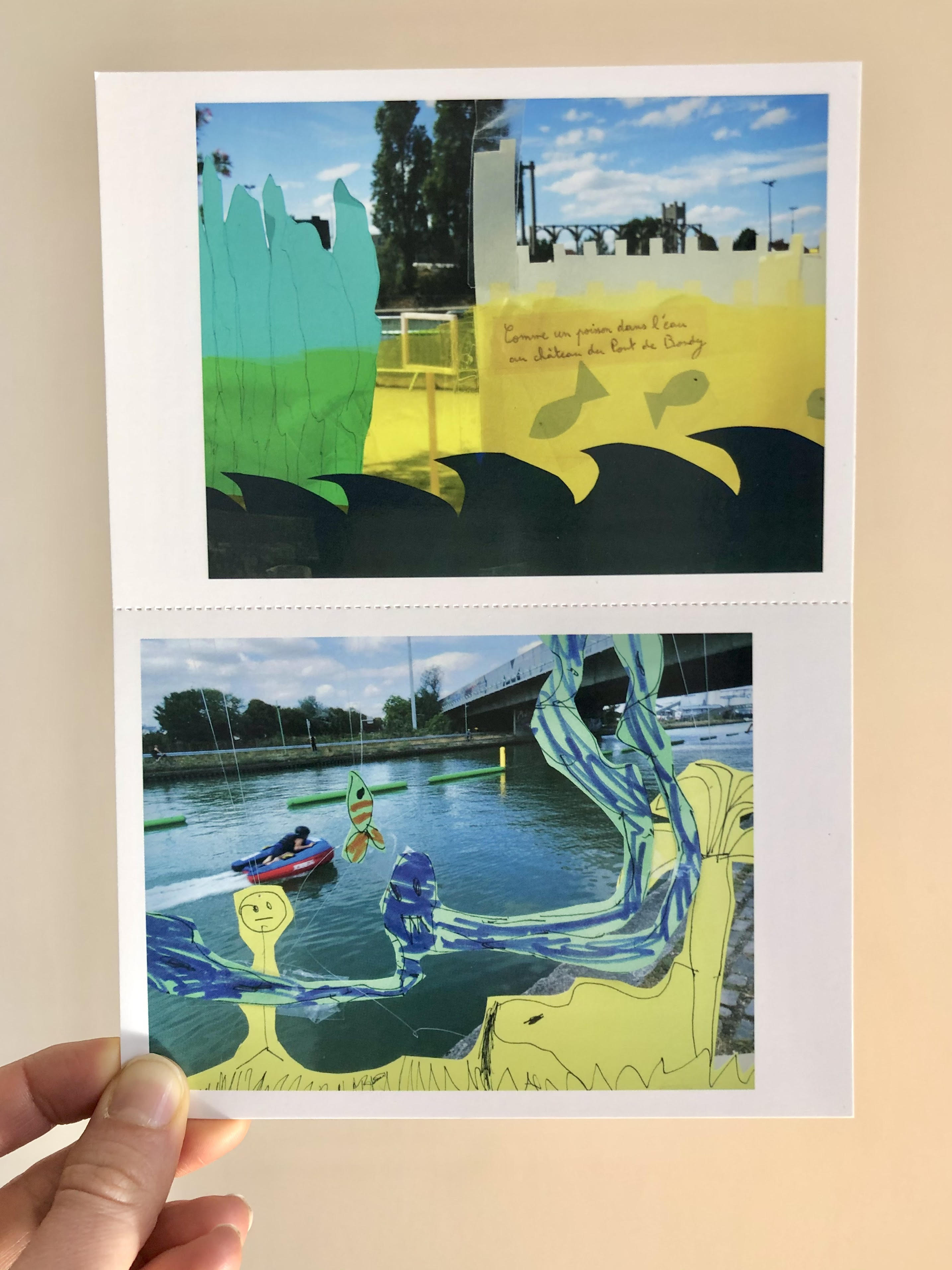 Children newspaper and game "Épatez La Galerie !"
Conceived by Clio Raterron (youth education program coordinator and mediation) with illustrator Simon Bournel-Bosson and graphic designers Atelier Pierre Pierre
Postcards Vues de l'Ourcq, 2020
Created during participative workshop with Mathilde Geldhof, Été du Canal, Noisy-le-Sec/Bondy
Épatez La Galerie !
Exhibition of outdoor projects and workshops
6 Apr. — 30 Apr. 2021
Each year in April, La Galerie, centre d'art contemporain de Noisy-le-Sec presents works created with the city's public during educational workshops and as part of projects developed in the area. The traditional exhibition "Épatez La Galerie !" usually curated in collaboration with a group of inhabitants, is this year transformed into a special event outside the centre, notably in schools and recreation centres in Noisy-le-Sec, as well as on La Galerie's social networks.
In 2020 and 2021, to maintain a connection between the artists and young audiences in spite of the months of closure, La Galerie's team adapted its mediation, going out to meet city's young people directly in their classrooms. Thanks to educational workshops led by staff artists Céline Drouin Laroche and Anna Ternon, they were able to discover the exhibitions "Futurologies" by Félix Pinquier (September–December 2020), then "Tissus urbains" by Larissa Fassler (January–July 2021).
Working from the reflections of artist-in-residence Chloé Serre on game, Clio Raterron (youth education program coordinator and mediation) has devised a board game whose instructions echo the concepts developed during the exhibitions of Félix Pinquier and Larissa Fassler. Throughout April this game will be played in schools and recreation centres.
"Épatez La Galerie !" is also the chance to present projects undertaken over the previous year. In July and August 2020, as part of Été du Canal, La Galerie invited artist Mathilde Geldhof to lead a photographic workshop for Seine-Saint-Denis families to produce their own postcard of the Canal de l'Ourcq. Because this series of postcards can't be presented at La Galerie, a special edition is being offered free of charge.
Educational workshops (cancelled)
From 6 to 16 April 2021:
In Noisy-le-Sec schools
From 20 to 22 April 2021:
In Noisy-le-Sec recreation centres
Meetings (cancelled)
Thursday 8 April 2021, 10:30am – 12am
"Jeu, café, thé"
For recreation centres directors and their assistants
Methods for transmission and mediation will be presented by the La Galerie team for young audiences and the game created within the framework of "Épatez La Galerie !" will be played
Thursday 15 April 2021, 9:30am – 12:30am
"Le jeu, outil de construction collaborative des savoirs"
For mediation and social work professionals
Meeting with Nicolas Pineros Cuellar (educational engineer and designer, founder of the Fab Lab LudoMaker at the Université Sorbonne Paris Nord), presentation of the children's newspaper "Épatez La Galerie !" and play time with artist-in-residence Chloé Serre