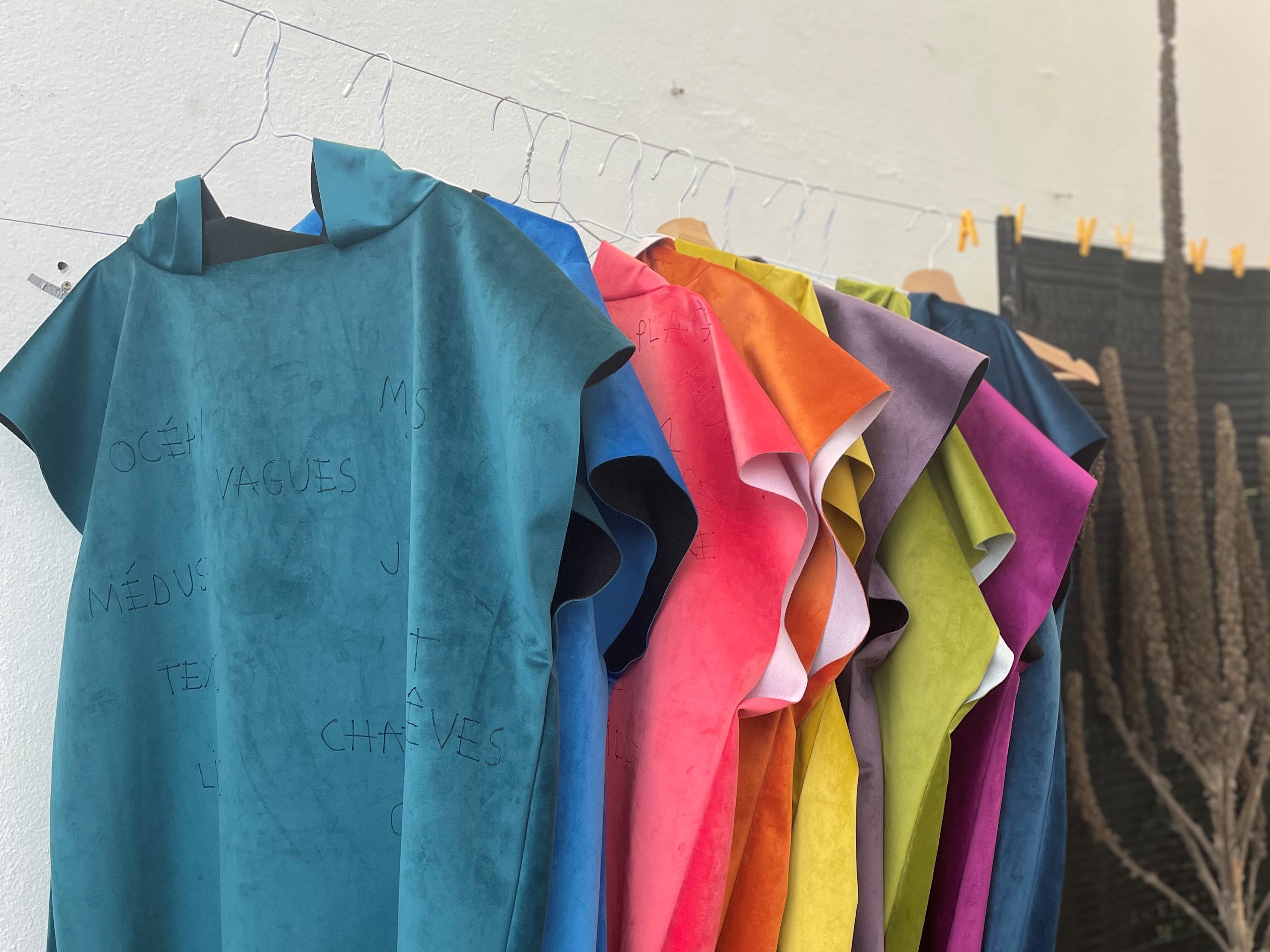 Carla Adra
Cape-mentales, 2022
Courtesy of the artist
Voyage vers l'Est
Carla Adra's residency
1 Oct. 2021 — 30 Apr. 2022
This residency is supported by the Seine-Saint-Denis Department. 
Carla Adra uses a performative form to reinvent ways of being together and modes of transmission. Interested in psychoanalysis and alternative ways of teaching, she proposes time and space for meeting and sharing: conversations, battles and participative workshops that are organised following exact protocols. In these moments of collective work, she leaves room for the other and strives to make audible voices that ar often rejected in the domestic, urban and institutional sphere.
At the same time, Carla Adra has her own sculptural practice that confronts her inner dialogue with subterranean forms.
Voyage vers l'Est
In the wake of Bureau des Pleurs, a performative work and video in which Carla Adra retransmits, through her own body, more than three hundred testimonies of injustice, "Voyage vers l'Est" is a collective project that stages self-narrative. With a group of around ten patients and supervisors from the Institut Médico-Éducatif Henri Wallon in Noisy-le-Sec, as well as members of the art centre's team, the artist creates moments of exchange and sharing so they can each create their own "mental cape" with words that characterize them.
Like a football team on a tour in Noisy-le-Sec, the group will then take over the Administrative Centre of the City of Noisy-le-Sec and invite the staff of the City of Noisy-le-Sec to come and create a portrait of them by putting on their cape. Carla Adra says: "Like a mirror that is perforated so two people can see each other, from both sides, one to the other, the agents' skin slides into theirs."
Restitution of the residency with the exhibition "Paroles chaudes", from 14 May to 23 July, 2022
"Les premières fois" programme
As part of her project, Carla Adra is programming a series of events in her studio in Noisy-le-Sec. "Les premières fois" are evenings where people are invited to share an artistic work for the first time.
"I'm driven by that teenage excitement, the untrammelled curiosity of adventure. It's what drives me to leave my house, to talk to strangers, to perform, to write, to film. It becomes the impetus of an artistic process that I want to share. So I invite artists, kids, my family to launch out into the unknown, to take risks, to show their work, their experiments, in a frame with rounded angles, non-institutionalized, at home, in the studio that the city of Noisy-le-Sec has put at my disposal," explains the artist. 
"La première première fois": Friday 10 December, 2021, 6pm
With: Carla Adra, Luqman Baktache, François Bertho, Adam Carmara, Néné Dieng, Charles-Arthur Feuvrier, Ilayda Hilaloglu, Dally Karaboualy, Abderrahim Mehani, Khenet Mobio, Mélinda Mobio, Youba Ombotimbe, Noémie Ristov, Anna Tissier and Damien Zheng
Twelve children between the ages of 7 and 12 are invited to share their sculptures, drawings and music. 
After participating in workshops with Carla Adra (as part of her project with the association Orange Rouge) and a papier-mâché workshop with Charles-Arthur Feuvrier, the ten students from the ULIS special needs class at Collège Françoise Dolto in Paris, supervised by their teacher François Bertho, will present their papier-mâché sculptures: intimate objects representing their own stories. 
During the Noisy-le-Sec artists' Open Studios (October 2021), Carla Adra's neighbours, Khenet Mobio and Mélinda Mobio, discovered in her studio guitar playing, singing and drawing. For this evening event, Khenet will give his first concert and Mélinda will show her drawings for the first time.
"La deuxième première fois": Friday 28 January, 2022, 6pm
With: Jules Lagrange and Benoît Piéron
Jules Lagrange works with the remains and debris of a personal and collective history, conscientiously, using traditional techniques. For the first time, he has sculpted a set of wooden puppets to create a show featuring the suicide of Anubis, protector of embalmers and guardian of the gates of the afterlife.
Benoît Piéron is an artist who creates objects and situations to give plasticity to the pet diseases he has always lived with. For the first time, he will give a conference on child animism by letting his own soft toys speak.
"La troisième première fois": Friday 1st April, 2022, 6pm
With: Marie-Laurence Larrauri and Géraldine Longueville
Marie-Laurence Larrauri has worked for twenty years in the perfume field. Today, she is developing a personal project through a collection of illustrated audiobooks, bringing together the fields of childhood, art and publishing. For the first time, thanks to the invitation of her daughter Carla Adra and the support of La Galerie, she talks about her inspirations, her creative process and the resulting work-in-progress.
Géraldine Longueville is an artist working on the sensory transmission of political, medicinal and botanical data. She shares for the first time a message about women artists and their relationship to motherhood, with an unpublished text written for the occasion.